Support the Center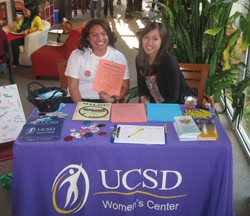 Please support the mission of the UC San Diego Women's Center to provide education and support to all members of the campus community regarding gender issues, with the goal of promoting an inclusive and equitable campus community.
Every gift, regardless of the amount, makes a difference.
You can make a donation online by clicking on the Give Now button below to visit our secure and convenient online giving website.

There are many other ways to give to the UCSD Women's Center:
Donate your time by volunteering.

Make a donation of books, equipment, and any other items on our wish list. The Women's Center is currently looking for new book donations! See our Wish List below, or contact Jessica Geipel for more ideas.

Send cash and/or checks payable to "UCSD Women's Center" to 9500 Gilman Drive, 0096, La Jolla, CA 92093-0096.
Wish List:
Children's books, toys, art supplies, recently published (2010-present) books focused on gender & social justice.