Rooms & Capacity

Living Room
Capacity: 25-30 people (cannot be reserved during business hours)
The Women's Center Living Room is the heart of the center where many of our signature programs are held. It is also a place for people to meet relax, read, study or even nap.
Equipment provided: Comfortable cushioned seating, rolling tables, portable film screen.
Conference Room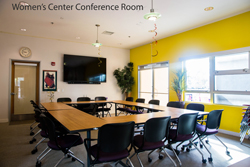 Capacity: 25-30 people
An ideal place to hold private meetings, small classes, small panel discussions, film screenings, lectures, and community dialogues. An attached balcony is available for outdoor events.
Equipment: Television, DVD player, rolling tables, and white marker boards. Note: A film projector is not supplied.  Please see Tech Services if needed.
Small Meeting Room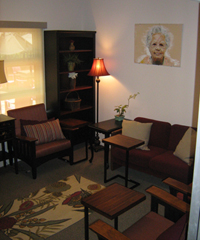 Capacity: 8-10 people
A comfortable space for small, private group meetings.
Equipment: Television & DVD player.