Room Reservations

ALL Room reservations have been put on hold until further notice. Please check back with us in June 2022.
Reservations are given to groups whose work aligns with the Women's Center F.A.C.E.S. Guiding Principles.
Important: Groups reserving the Women's Center may not charge fees for events or activities in the Center.
Rooms and Equipment: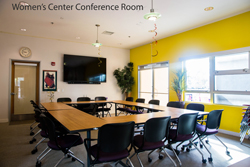 Conference Room: The maximum capacity is 20 people conference style, and 35 people with a lecture style set-up.  The original set up for this room is conference style, with seating for 20, along with 8 tables. Extra chairs are available for a lecture style arrangement. The room can be rearranged to suit your needs as long as it is returned to its original condition. A white board and 80" laptop accessible television, with HDMI and VGA inputs, are available. Mac users please note: Mac adapters are not provided. The Women's Center does not provide additional media equipment, services, or staffing to set or clean-up the room. If you require additional audio/visual services, please contact Media Services at 858-534-8265, in advance.

Small Meeting Room: The small meeting room seats 10 comfortably.  A laptop accessible television is available.
The Women's Center does not provide additional media equipment, services, or staffing to set-up or clean-up the room.
Note: This room is unavailable after-hours.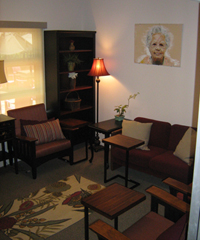 Room Reservation Guidelines and Expectations:
We require that you appoint one person from your group to take responsibility for the space reserved.
The Conference and Small Meeting Rooms must be left in the condition they were found. It is the main contact's responsibility to set-up, thoroughly clean-up, and manage time for the room reserved.
 Food and non-alcoholic beverages are allowed. Alcohol is not permitted.
Cancellation Policy: lf you need to cancel your reservation for any reason, please notify the Women's Center 24 hours prior to your meeting/event. 
How to reserve a room during business hours (9am-7pm, Monday-Thursday, 9am-3pm Friday):
Please review the F.A.C.E.S. Guiding Principles to ensure your organization's work aligns with the Principles.
Reservations must end on time. Remember to manage your time and allow at least 10 minutes to clean, reconfigure, and vacate the space so the room is ready for the next group. Groups meeting directly after yours expect to occupy the room on time, as scheduled.
All reservations held near the close of business must end 15 minutes prior to the times listed under our Hours & Availability (see top of the page). It is important to factor this time into your meeting plan. The Women's Center staff must always close the Center and activate the Center's security alarm on time. Please refer to the Women's Center's Hours of Availability, located at the top of this page, and plan accordingly.
Verify room availability by phone 858-822-0074, or email.  Please note: Groups may NOT reserve the Women's Center Conference Room more than twice per quarter unless they are affiliated with a gender and social justice related organization or department.
Complete and submit a Women's Center Room Reservation Form below. 

How to reserve after hours (requests must be made at least 2 weeks in advance):
To inquire about the possibility of reserving the Women's Center after hours on Monday or Tuesday evenings, please contact Camila Lautz. All other days of the week, including weekends, are currently unavailable.